I am passionate about Taijiquan and Qi Gong. And I am a woman. And I think that women are a bit underrepresented in the Tai Chi and Qi Gong world. I mean, look at all the big masters, they are mainly men! So I want to raise the awareness for all the wonderful women in our community. In this interview I talk to Angela Cooper who owns the Qigong Akademie Cooper.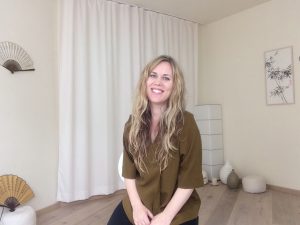 Angela, tell us a bit about yourself!
Hello, I'm Angela Cooper and am a Qigong instructor based in Vienna (Austria). I am 45 years old and have a 24 year old daughter and a 17 year old son.
I direct the Qigong Academy Cooper in Vienna and have been an instructor for Qigong for 17 years.
Please share some details of your Qi Gong journey?
I first experienced the amazing effect of Qigong when I suffered from a burnout many years ago. Since 1995 I have worked as a dance teacher and contemporary dancer (performance and choreography). I have always loved dancing and performing on the stage — the excitement and the intensity of it all.
Oh, I went to the ballet as a kid, and I really enjoyed dancing and performing on stage. However, I was really the worst student in class … so I never would have had a chance to become a professional. And dancing is quite intense!
Yes, with the intensity came exhaustion. Even on trips to the shop around the corner I had to sit down twice on my way there to regain strength. After a year of fatigue and illness, I had myself examined from head to toe. But no physical reason for my exhaustion and the ever-recurring infections was ever identified.
As a passionate stage dancer I was frustrated. Although I loved to move, dance and train, after each dance rehearsal I would be completely exhausted and lay sick in bed for two weeks.
Then by chance I discovered Qigong. I was thrilled by the grace and elegance of the smooth movements and was fascinated by its beauty.
After practising it for a little while, I felt healthy, powerful, full of energy and joy of life. One day, while looking at my Qigong-diary, I found the entries that described my lack of drive and my fatigue. Although these had tormented me for more than a year, they had already been forgotten after a few months of regular practice when I felt so fit and healthy again.
My rapid convalescence convinced me that I should deepen my knowledge of Qigong and TCM. I wanted to find out why Qigong had helped me to recover my health in such a short time.
In addition to my Qigong training courses, I completed a TCM training to find out which secrets of Traditional Chinese Medicine (TCM) were behind the special effects of Qigong. I found the world of TCM fascinating. But most of all, I loved and still love its application in the form of Qigong.
I was fortunate to learn for over 17 years from wonderful masters of Qigong and TCM such as Chen Jumin, Eli Montaigue, Alexandra Gusetti and Liu Qingshan, the official representative of the Chinese Qigong Academy Beijing.
Since 2000, the start of my Qigong teaching activity, I have experienced the same effects with my Qigong-students — how they also regain health and vitality while practicing Qigong.
In a way I could say that I am almost grateful for the exhausting times, for the burnout. They have led me to what is for me the most beautiful profession: to enjoy the power and beauty of Qigong and share this delightful art with my students.
Finish this sentence: when I started learning Qi Gong, I would have liked to know…
When I started Qigong I would have liked to know how it works and why I was able to gain so much energy in such a short time and with so little effort through Qigong. In the beginning it seemed quite incomprehensible. After all, as a contemporary stage dancer I had always moved a lot, had always concerned myself with health, breathing techniques, relaxation exercises and the power of the mind and mental exercises.
Why was Qigong so much more intense? Why did I recover from the burnout after only a short period of Qigong-practice?
Actually when I started Taijiquan and Qi Gong, I also worked a lot, traveled often, and had very little time for anything else. It truly amazed me, how these easy exercises could be so beneficial.
Is there any teacher that you still remember? A lesson or insight that you keep dear to your heart?
My first Qigong teacher Chen Jumin taught me that seriousness and humor fit together perfectly. I like to remember his instructions in the basic Qigong position: "holding Mozartkugeln (Austrian Chocolate Bonbonnaire) between the fingers" as well as "smile – but not".
Or his suggestion to use the computer mouse in the basic Qigong position when working on the computer and thus to practice Qigong, while letting the boss pay for it. To this day, I love Qigong lessons which are accompanied by humor.
What a great idea, I will start doing this mouse-exercise immediately! What are you currently practicing? Do you have any personal goals in Qi Gong?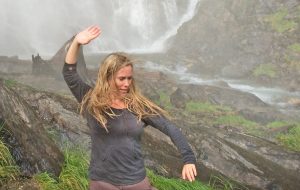 At the moment I am practicing Qigong for the spine, the "game of the animals" and the Yang Lu Chan form . I also work on developing a small Qigong-cycle which can serve as a burnout prophylaxis.
My goal is to penetrate more deeply into Taijiquan — but just for myself. Since I teach exclusively Qigong (not Taijiquan), I feel as if Taijiquan is my secret retreat — where I draw strength and rest. Qigong, in turn, is a precious treasure, which I share joyfully with my students.
That sounds wonderful, to teach Qi Gong and to practice Taijiquan for yourself! How does your practice impact your everyday life?
To practice Qigong makes me happy. The suppleness of the movement makes me immidiately feel free. The resulting intense sense of happiness accompanies me in my everyday life as well as in contact with other people. Furthermore the sleekness of Qigong practice makes everyday life much simpler and brings the daily challenges into a new perspective.
I think that it is best to learn from a teacher in person, but which book taught you the most? Which would you recommend to a friend?
My first Qigong-book was "Qigong" by Kenneth Cohen. Perhaps that is the reason why I feel that I have learned much from it and why I warmly recommend it to my students and friends.
I agree that book is clearly among the best Qi Gong books! And thank you Angela for answering all my questions!
Now if you, dear reader, would like to know more about Angela Cooper and her Qi Gong, have a look at her homepage or her (German) blog!
Happy Qi!
Angelika