I am passionate about Taijiquan and Qi Gong. And I am a woman. And I think that women are a bit underrepresented in the Tai Chi and Qi Gong world. I mean, look at all the big masters, they are mainly men! So I want to raise the awareness for all the wonderful women in our community. Thus I often interview Tai Chi and Qi Gong women. In this interview I talk to Janet Jin. One of my newsletter readers suggested her and I am excited to get to know her.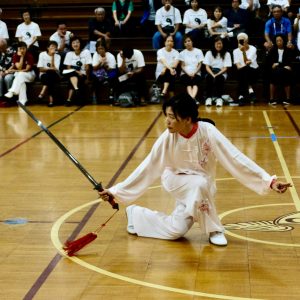 Tell us a bit about yourself:
I was born in Taiwan. My family settled in Hawaii in 1995. My father is a martial arts enthusiast and retired colonel in Taiwan. He often took me to watch Kung Fu movies with him and later asked his friend, Mr. Sun, a Tae Kwon Do and Karate Master- to teach me the Martial Arts. Master Sun taught me in a traditional way and emphasized the fundamentals, which helped me to build a good foundation and fostered a deep interest in Martial Arts from an early age. 
Please share some details of your Taijiquan/Qi Gong journey?
I have always been interested in Taoist philosophy. Tai Chi is the Martial Art that is based on the Taoist philosophy. I have studied martial arts with many great teachers. The two teachers who have had the most influence on me are Master Zeng Chen Dong and Master Jing Chen Han. In 2002, I started to study Taijiquan and Qigong with Master Dong, the son of renowned Tai Chi master Dong Hu Ling and the grandson of Dong Ying Jie.
In 2008, I started to learn Yi Quan with Master Han to deepend my understanding of the essence of martial arts. I have been a Tai Chi and Qigong instructor since 2003.
Finish this sentence: When I started learning Taijiquan and/or Qi Gong, I would have liked to know…
… how it feels like when I reached the highest of level of Tai Chi, which is Wuji.
Is there anything that you specifically learnt from your first teacher that you still remember? A lesson or insight that you keep dear to your heart?
Focus on the process. Mind, intent and form are together when we practice.
What are you currently practicing? Do you have any personal goals in Taijiquan and/or Qi Gong?
Besides the daily Buddhist practice, my curent practice is still Taijiquan and Qigong. I hope to share my Tai Chi and Qigong knowledge and experience with as many students as possible to help them live a healthy and  happy life.
How does your Taijiquan and/or Qi Gong practice impact your everyday life?
The practice increases my awareness and helps me experience life in a more meaingful way.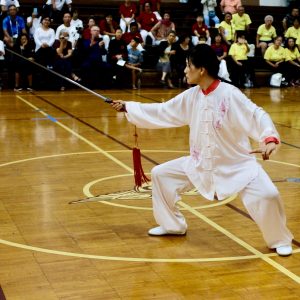 Event though I think that it is best to learnt from a teacher in person, but which book taught you the most? Which would you recommend to a friend?
Dao De Jing ( 道德經 ) is a must read to all Tai Chi and Qigong practitoners. Once you understand the Taoist philosophy behind Tai Chi and Qigong, it will speed up the advancement of Tai Chi and Qigong practice.
Janet, thank you for this open interview and for sharing your experiences and thoughts!
Now if you, dear reader, would like to know more about Janet Jin have a look at her page for Tai Chi in Hawaii!
Happy Qi!
Angelika