I remember the time when I did not know how to do Tai Chi at home. Standing in the middle of my living room, alone, just me and my body and the memory from the last Tai Chi class.
I tried to concentrate on the position, where to put my legs, how to wave my hands, and all the time I was thinking: am I doing this right? What if I do something wrong?
Yes, in the beginning it feels kind of awkward to practice at home. Because, how often do you stand in your room, alone, no music and just your body, mind, and you? Yes, that can be intimidating.
But the thing is: that's ok. Basically everyone starts like that (well except maybe those Chinese masters who started at the age of 5 under the supervision of their father). Everyone starts with Tai Chi for beginners. Everyone on the Tai Chi route needed to overcome that awkward silence and being-alone-with-myself-ness. I guarantee you: it's worth it.
And practicing at home is actually quite easy. Because all you need is a bit space and the memory from your last Tai Chi class.
Just stand in the middle of a free area in your apartment. For example your living room, kitchen, bedroom, hallway. Just any place where you can open your arms freely and make a step in each direction.
Now remember one move from class. You don`t need to be able to go through the whole form! Just one Tai Chi move. And if you don't remember any move, just stand still. Get in the opening position in a hip-width-stand, arms hanging on the side, and just stand upright for 2-3 minutes. That's it! That's a really great start! Hooray!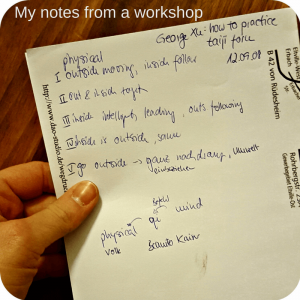 If you cannot remember a move at all, I recommend that for the next Tai Chi class you take paper and a pen with you. Maybe you don't want to write during the lesson (depending on your teacher). But right afterwards, sit down and scripple down some notes or drawings of one move you want to try at home.
And then, at home, just stand, get ready and then try what you've written down. Play with it. See if the notes still make sense at home. Write down any questions you have – and then ask your teacher the next time you see him/her!
Really, when I was a teacher, the best thing for me was to see that people practiced at home. Because you can go to classes, but you will really benefit the most (and get the most value for your money!) once you practice at home, too. Practicing at home is the biggest compliment you can give your teacher! And it's the best thing you can do for your own health.
Ok, so you did your first short sessions at home. Now just continue like that. Write down some notes after each class and go through them at home. See what you remember other than the notes. Play with it. Digest it. Make it your own experience. Incorporate it – make it a part of you!
And after more than 12 years with Taijiquan and Qi Gong I can tell you: I still do that! It doesn't really change that much if you do Tai Chi for beginners or if you are a more advanced student. Maybe it becomes easier for you to remember insights or corrections or details. But it's still all about incorporating those details at home! And increasing the session time. As you start with a couple of minutes, just work yourself up to 5 – 10 -30 minutes or more each day!
Well, now you know WHAT to do at home. Let's talk about some more practical tips and tricks how to do Tai Chi at home:
Make it a habit. Try to practice every day. It's easier if you practice always at the same time and the same place.
Make it a ritual. Get your Tai Chi shoes on. Salute just like you would in class. Do the closing like you would in class and store that valuable Qi in your Dantian!
Read. You could read about Taijiquan in general or maybe find a book with details about your style & form. You'll find many ideas, concepts, principles to think about and practice. For a start, have a look at my list of best Tai Chi books.
And finally: Don't worry if you get more distracted at home than during class. I mean, if you have a home like a Tai Chi studio, that would be great. But at least my living room is more a Lego studio than a Tai Chi studio ;). Don't mind if your mind wanders. Just notice it and get back to your practice. Like Allen Ginsberg (yes, the poet) did:
In conclusion, just get up and start practicing! You know how to do Tai Chi at home now! JUST DO IT!
Happy Qi!
Angelika
If you really don't know which Tai Chi exercises to do, you could also have a look at my compilations of videos and do 5 minutes or 10 minutes of Qi Gong exercises!
Merken
Merken