If you ask someone "where is Tai Chi from" you'll get the answer "China". But China is rather large, so where exactly in China?
Usually there are two places that claim to be the birth place of Tai Chi Chuan (also spelled Taijiquan). They are Chenjiagou and the Wudang mountains.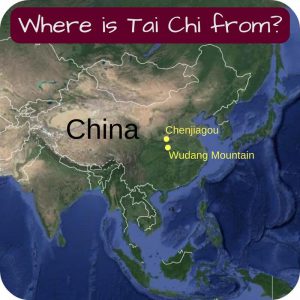 Before I tell you more about those two places, I want to note that I chose alphabetical order. Because I really do not want to emphasize one over the other. People actually lead very heated discussions about this!
Where is Tai Chi from?
Chenjiagou
Chenjiagou lies in Wenxian County, Henan Province. It is the village where the Chen family comes from. You might know that most Tai Chi Chuan styles are family styles. And the Chen family from Chenjiagou traces the origin of Tai Chi back to their ancestor Chen Wangting, who lived 1580–1660. It is said that he invented Tai Chi, that he was the first to do it. (But I think no one can know for sure if he was really the first person ever ever ever!)
Wudang mountains
The Wudang mountains in Hubei Province are well known for their Taoist temples and monasteries (they are actually the Taoist counterpart to the Chan Buddhism Shaolin monastery). Some claim that Tai Chi Chuan was created by Zhang Sanfeng, who lived in the Wudang mountains. Zhang Sanfeng is a Taoist legend from the 12th century (thus no one can know for sure if he was really the first person ever ever ever!).
So what do I think where is Tai Chi from? Well, China. And I really don't dare to say anything more precise than that. I think that both locations above have reasons to claim to be the origin of Tai Chi. However, I also think that scientists and historians still have a lot of work to do to answer this question!
And then there is also the possibility that Tai Chi Chuan was not invented in only one place. Do you know the terms Multiple Discovery or Simultaneous Invention? For example magnetism was discovered independently in Greece, China and India! Maybe it's just the same for Tai Chi Chuan. That is was invented in two places and now the debate about who is right is really pointless.
Because in the end, I personally don't care much about where is Tai Chi from. I am satisfied with the answer "China". I really enjoy practicing this wonderful martial art and I am happy that is is practiced all over the world now!
Happy Qi!
Angelika
Merken