I just love to connect with Taijiquan & Qi Gong enthusiasts all around the world. That's actually the reason why I write my blog in English even though my mothertongue is German. And I have to admit that I have never been to a conference or big push hands meeting, but I would really like to go to such an event. And there are so many Qi Gong & Tai Chi Events 2020!
I am sure you can find many more events, meetings, workshops etc. But I wanted to concentrate on the BIG international meetings and conferences. So my criteria to choose the Qi Gong & Tai Chi events 2018 on my list are:
Minimum 3 days long
Minimum 3 different teachers
Possibility to participate in English or have translations to English (especially when the event is in a non-English-speaking country)
Just choose an event you would like to go to – there are so many possibilities and locations. I am sure you'll find one of these big international Qi Gong & Tai Chi events 2020 right for you! You could even plan your vacation around such an event, they happen in really great places.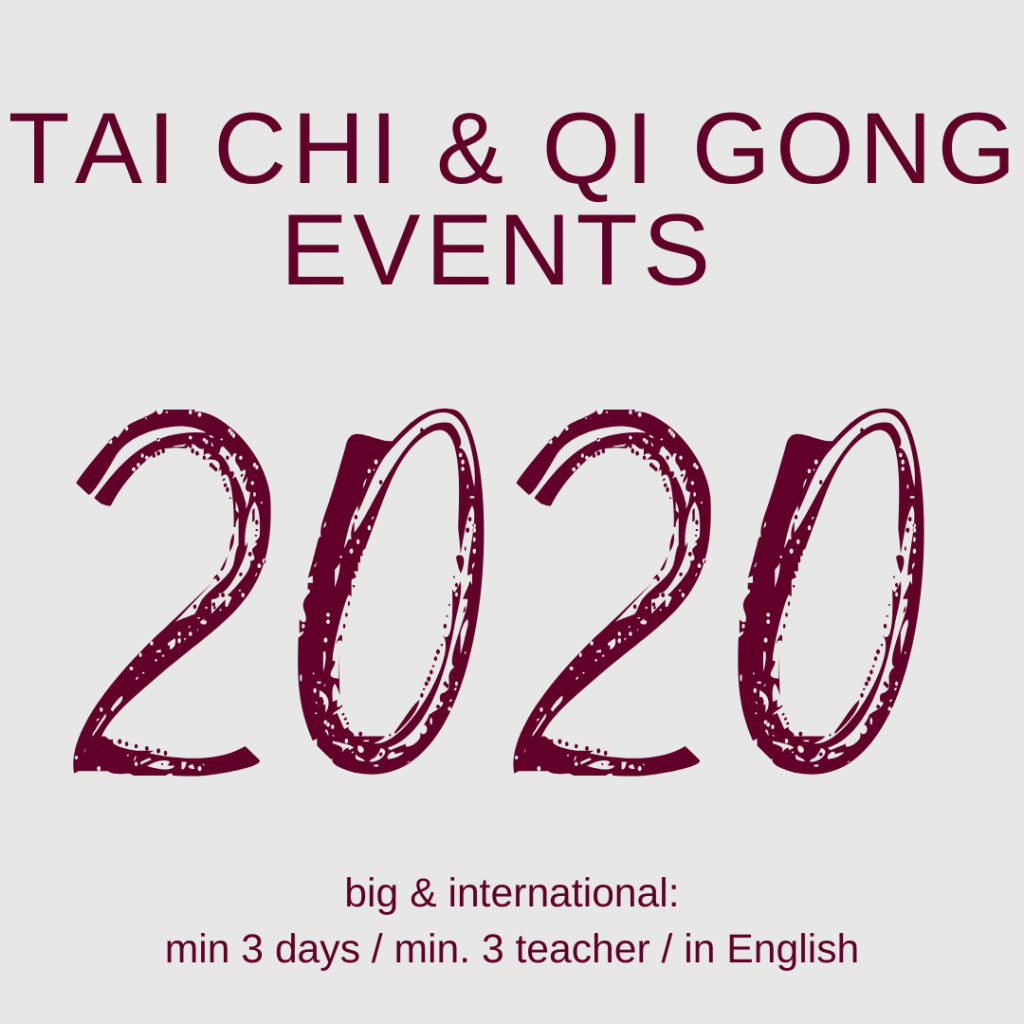 And if you know about other events that match my criteria, feel free to write me an eMail!
---
Big International Qi Gong & Tai Chi Events 2020
International Push Hands Meeting Hanover
February 26th – March 1st 2020 in Hanover, Germany
For the 20th time, push hands beginners and enthusiasts meet in Hanover. Mornings are filled with workshops for all levels, afternoons are filled with free push hands opportunities.
---
May 15th – 17th 2020 in Gut Chiemsee, Germany
Topic of this meeting of the Austrian Qi Gong Association and German Qi Gong Association is "Sehnsucht nach Ganzheit" ("longing for wholenesse").
---
International Tai Chi Festival "Democritus of Abdera"
May 22th – 24th 2020 in Xanthi, Greece
International exchange meeting between teachers, experts and friends of Tai Chi Chuan and Qi Gong of Europe and the Balkan area aiming to enhance friendship and expertise in the ancient Chinese internal martial and movement art. Exploring Tai Chi through philosophy with an approach of the work of the great philosopher Democritus of Abdera.
---
International Taiji-Push Hands-Meeting
June 11th – June 14th 2020 in Hassfurt, Germany
This meeting provides TAIJI – practitioners of all styles (Yang, Chen, Wu, Fu …) a friendly and harmonious atmosphere to practice, to get to know, to share experiences,… . But the important thing is to go deep into the art of TAIJIQUAN.
---
July 10th – July 17th 2020 in Stirling, UK
2020 is the 25th time that this week of Tai Chi, Qi Gong & Chinese Internal Arts takes place in the heart of Scotland.
---
July 24th – 26th 2020, Albany (NY), USA
Over the past 23 years, the National Qigong Assocation has hosted this conference to share Qigong. In 2018, there will be two conferences in April (East) and October (West, only two days).
---
July 24th – July 26th 2020 in Marçon, France
This event is the oldest international Taijiquan meeting across different styles in Europe. It emphazises friendly and non-competitive exchange of experiences, skills, and push hands. (This meeting on a camping ground has no commercial organisator, thus openness and self organisation is expected!)
---
---
August 14th- 18th 2020 Haarlem, The Netherlands
This is a 3-day outdoor Tai Chi festival, open to all styles, related disciplines and levels.
---
Now those are a lot of big Qi Gong & Tai Chi events 2020! I am sure there are some more, so please contact me if you know of another meeting that meets my criteria (min. 3 days, min. 3 teachers, English).
And of course I want to wish all organizers and participants success and a good time:
Have fun! Learn a lot! Connect with each other!
Happy Qi!
Angelika
P.S.: You can find a list of open Tai Chi tournaments here!
And I would like to add one more big event: the World Tai Chi & Qi Gong Day on April 25th, 2020 which is celebrated all over the world!