Qi Blogs are what I call all the different Taijiquan and Qi Gong blogs. And there are so many of them!
Some post regularly, some haven't posted for a while, some write not only about Taijiquan (or Tai Chi) and Qi Gong. They also talk about meditation, health, Traditional Chinese Medicine, or other martial arts. I really recommend to visit these blogs, click through them and find your favorite ones.
There are quite a lot of bloggers that do not blog very regularly. Or they even stopped blogging at all. That's why I wrote about my favorite active blogs here: 14 Top Tai Chi Blogs!
Tai Chi & Qi Gong Blogs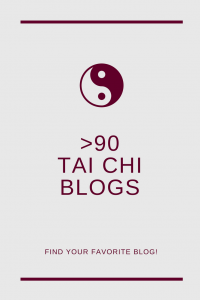 Chinese Whispers (Facebook only)
Energy Arts (Bruce Frantzis)
How to learn Qigong to keep fit
Insight Taiji and Qigong Center
Internal Martial Arts Training
London Chen Taiji (Michael Tse)
Sensei Domi's Tai Chi and Qigong Blog
Spiralwise – Tai Chi from a Scientific Perspective
Talking Chen Taijiquan with David Gaffney
The Feng Shui Architect's Blog (Howard Choy)
Now that is a long list of Tai Chi and Qi Gong blogs! I am sure you'll find your favorite among them.
And if you know about a blog that should be added to my list of Qi blogs, just contact me, please!
Happy Qi!
Angelika
Merken