Some days ago I changed my opinion about Qi sensations (Ba Chu). Since I started practicing Taijiquan and Qi Gong more than a decade ago, I did not want to talk about Qi sensations. Whenever people talked about it, I tried to not listen. I was afraid that if I would listen to other people's experiences and Qi feelings, I would feel the same. I was afraid that I would kind of "make up" those feelings for myself. As if I would only feel it because I heard someone else talk about it.
But this week, I changed my mind. Now I want to want to know more about Qi sensations. Let me tell you the story.
Three years ago I started learning Taijiquan from my current teacher. Since the beginning, I almost always started to feel warm during the lessons. Sometimes I was even a bit sweaty, but not much. And I always thought, that I felt that warmth and sweat because the heating was on. I usually stand right in front of a window with a heating element underneath it.
During this week's lesson, I started feeling warm again. But somehow I got the impulse to check how warm the heating actually was. Because I felt warmer and warmer and I wanted to know how much of that came from the heating.
So I touched it. And it was off! The heating was cold! And then I realized: My warm feeling wasn't coming from an outside source, it was ME. It was actually a sign of my very own Qi activity!
I was actually very happy about that. Because I struggled to have a Qi feeling for a long time.
And this incident made me rethink my opinion about hearing other people's Qi sensation experiences. Maybe I was feeling already more than I thought? What if I just did not realize, that it was a Qi sensation? Thus I changed my mind and now I wanted to investigate the different Qi sensations.
First, I had a look at my Taijiquan & Qi Gong Dictionary*. Because I remembered that I actually mentioned Qi sensations in it: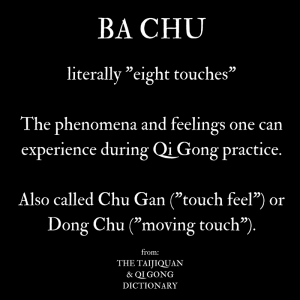 As the name Ba Chu (Eight Touches) indicates, there are supposed to be 8 Qi sensations. However, as there are different names for the various senstions, I found more than eight names!
Qi sensations: B
ā

Chù /

八

触 /

Eight Touches

Dong – moving

Yang – itching

Liang – cool

Leng – cold

Nuan – warm

Re – hot

Qing – light

Zhong – heavy

Se – harsh

Hua – slippery

Diao – shaking

Yi – rippling

Fu – floating

Chen – sinking

Jian – hard

Ruan – soft

And looking at that list, I actually feel a couple of these Qi sensations myself. I already talked about the warm feeling. Then I know a tingling feeling in my hands. And a feeling like cold lava flowing down my back, especially in the neck area. Sometimes, I feel these during acupuncture, too.

If you want to get deeper into this topic, there is a small section about it in the book The Root of Chinese Qigong*, or have a look at this excerpt.

Now, of course, I would love to hear from you: what kind of Qi sensations do you feel? Feel free to share your experiences in the comments!

Happy Qi!

Angelika

Merken

Merken

Merken