Wherever you live, there may be a lot of teachers and schools for Taijiquan and Qi Gong. And it's not easy to find the best teacher for you. And I recommend that you go to some trial Qi Gong & Tai Chi classes.Usually, the first lesson is for free.
Luckily, when I first looked for a teacher, I found the right one right away. But after I moved to another city, I needed to find someone else to go to. I went to quite a lot of trial lessons and some of the experiences were … strange.
I want to share the stories with you – not to speak bad of those teachers (all of the lessons I went to were quite crowded, so there are students who liked it). But I know if you've never been to Qi Gong or Tai Chi classes, you simply don't know what to expect. You don't know what's "normal", "common practice", or even "good". So I add to my experiences what I think could have been better.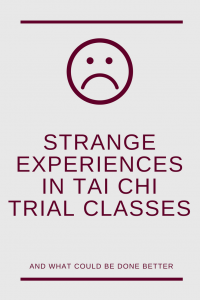 I once went to a teacher who did not speak German (as you know, I live in Germany), or English. For every day life his language skills were maybe sufficient, but I would like to ask questions in class. Questions specific to Taijiquan and Qi Gong. So I want the teacher to understand me and to be able to answer. Unfortunately I don't speak Chinese (or in that particular case Korean). I have to add that I don't mind the lesson being in English or maybe even have someone to translate. But I think: The teacher should speak your language or English or there should be someone who translates. (Obviously if I travel to China – everyone speaks Chinese there, so I would have to deal with it or find a translator myself. But I'm talking about lessons in my home town.)

Then I went to another school where I could to a trial lesson in an ongoing Tai Chi course. It was quite crowded with more than 30 students. As we started doing the form, the more advanced students stood in the front row and the Tai Chi beginners in the back. Everyone did the form in their own pace as far as one could go. That was actually quite chaotic. I was standing in the back and another beginner student was told to show me the form. I did not see the teacher until the end of the lesson. But I think: The teacher (or an assistant) should take care of you (to show & correct you) at least for a short while. Or maybe I am asking for too much?
In another class, I found it quite odd that we started with jogging/running. I need to say that I hate running. If I want to run, I'd go running, but I wouldn't go to a Taijiquan or Qi Gong lesson. And then there was this interesting lesson where we would rush through a Qi Gong set accompanied by very loud Chinese music. The exercises were quite good, but the pace was really fast. Concentrating on the Dantian? No time for that, the teacher is demanding another exercise! But: You should be given the opportunity to calm down and relax during the Qi Gong or Tai Chi class.
At the end of another trial session I was asked if I wanted to come back. And as I walked through the door, a German song came to my mind. Translated it means: "You don't have love inside". Well, I did not go to that place again! Because: You should leave the Taijiquan and Qi Gong session with a positive and uplifting feeling.
So these were my strangest experiences in trial sessions. Plus what I think Qi Gong or Tai Chi classes should be like instead.
And now I am really curious: do you have any stories to share? Or what do you like about the lesssons you go to?
Merken